The United States Grand Priory donated thousands of dollars to a number of nongovernmental organisations working within the community of Idyllwild in California during the month of September. These donations were effected during the month of the US investiture of the Order which featured a huge delegation of Lazarite members from all over the US States and who attended the packed investiture service at Our Lady of Angels church.
The donations were given to the community caring smARTS program, to the Lady of Angels Catholic Church, to the Idyllwild Fir Fighters Volunteer Corps.
"It was disbelief," said Dan Messina. "It was too good to be true. That kind of generosity doesn't come often." The Idyllwild Volunteers plan to use the funds to buy safety gear for their members, according to Messina. "We've been limited to the number of volunteers because of finances and equipment," he said upon receiving the monetary gift of USD 1,400.
The small community of Idyllwild were overwhelmed with the Order's acts of generosity towards their community and made ample efforts to ensure a brilliant outcome for the US investiture held in their town.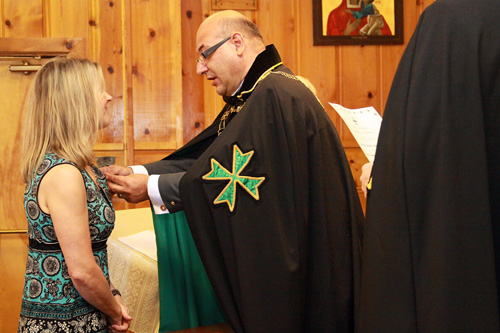 Joann Tomsche, left, received a medal of recognition for her volunteer work with the smARTS program in Idyllwild from The Grand Chancellor Chevalier Massimo J. Ellul of the Hospitaller Order of Saint Lazarus of Jerusalem at the Queen of Angels Catholic Church. Photo by Jenny Kirchner.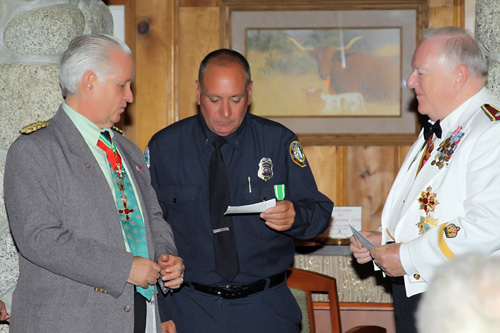 His Grace Michael Teilmann (right) presents a check to Idyllwild Fire Volunteer Firefighter, Dan Messina (center), for the Idyllwild Volunteer Company. On the left is the Chancellor of the Hospitaller Order of Saint Lazarus of Jerusalem USA Grand Priory – the Honorable Judge Benjamin Zvenia. The gift was made at a black tie event Saturday night, Sept. 15. Photo by Jenny Kirchner
Full write-ups related to these donations can be seen at the town's newspaper by following these links:
http://idyllwildtowncrier.com/2012/09/20/the-grand-chancellor-visits-idyllwild/
http://idyllwildtowncrier.com/author/jp-crumrine/page/6/
Category: News