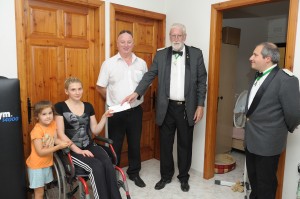 Even before the official consecration of the Grand Priory of the United States, the officers and members of this new jurisdiction within the Order opted to organize a number of fund raising events in order to start the Hospitaller work of this Grand Priory in the best fashion possible. Coordinated by the Secretary General-elect of the Grand Priory of the United States, Dame Karen Cantrell, OMLJ DMLJ, the Confreres and Consoeurs of the Grand Priory of the US answered to the urgent need of a Russian teenager, Vlada, who, by means of a terrible accident whilst she was out with her friends, was totally paralysed and had to undergo extensive amounts of surgery and constant rehabilitative treatment in a specialized Moscow hospital. These medical needs were, and still are, a huge financial burden on this courageous woman, who started a campaign called Help Vlada Campaign in order to get back the faculties of movement.
Her medical specialists suggested to her the purchase of a specialized machine, called the Moto-Med Machine which would greatly alleviate and assist her rehabilitation. For Vlada, although indeed a necessity, such a machine if newly bought would have meant a further payment of Euros 9000, which was money she did not have.
In came our team of US Lazarites, who sourced out, bought, crated and shipped a Moto-Med Machine from the US itself to a bewildered Vlada, who could not stop at thanking this great initiative from across the waters.
On behalf of the Supreme Grand Priory, we would like to congratulate our US Lazarite team for such a show of Hospitaller work even before the actual consecration of the Grand Priory itself. Keep up the good work.
Category: Charitable Activities, News