WORLD CONGRESS OF MONASTIC MEDICINE • JUNE 5, 6, 7 & 8 – 2014 • NEVIS ISLAND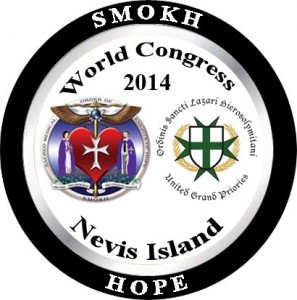 MAGISTERIAL COUNCIL
SACRED MEDICAL ORDER • KNIGHTS OF HOPE
[HOSPITALLER ORDER OF PHYSICIANS & ECCLESIAE]
Part of the United Grand Priories of the Hospitaller Order of Saint Lazarus of Jerusalem
The largest international confraternity of Lazarite brothers and sisters – 14,000+
The Knights of Hope is an international medical, hospitaller Order, that supervises and manages a Diocese of the Holy Catholic Church of the East, maintaining and supporting monastic medicine of Christian antiquity. It seeks to emulate the strong and didactic traditions of Christian medicine and traditions in the spirit of Hospitaller aid, philanthropy and chivalry are passed on from one generation to another. It also seeks to ensure that the heritage of Christian monastic and natural medicines are preserved for future generations. 
The Sacred Medical Order is an independent and ecumenical religious Order, all under the spiritual protection of Catholic Church of the East and its established ecclesiastical officers. The Order carries out devoted and essential education, philanthropic aid and assistance throughout the world and has been lauded by the relevant authorities for its inbuilt philosophy of aiding and assisting without seeking any other reward save the joy of knowing that help and aid were given to those that need it.
The Announcement:
The Sacred Medical Order, under the Grand Master and Sovereign Council have the honour and pleasure to announce the First International SMOKH Symposium, which will be held on Nevis, the island of the Knights world model clinic, on the established dates of June 5, 6 and 7, 2014, in conjunction with The United Grand Priories of the Hospitaller Order of Saint Lazarus of Jerusalem, under the Chairmanship of the Supreme Grand Prior, H.E. Richard Comyns of Ludston GCLJ, GCMLJ, and the stewardship of the Grand Chancellor – Chevalier Massimo J Ellul GCLJ GCMLJ– Grand Priory of Malta.
Why Nevis?
Nevis Island is the country that hosts the Sacred Medical Order and its world teaching clinic where monastic medical traditions have been routinely practiced and well received by the people for more than fifteen years. The SMOKH clinic services more than 6,000 patients, Caribbean wide.
June was chosen as an excellent time since it is off-season, hotel rates will be lower, and flights amply available.
The Proceedings
The Congress will be hosted at the newly built Nevis Performing Arts Center (NEPAC) which seats up to 400 people.
Venue
THEME: Our histories of medicine discuss Greek medicine at considerable length and pay scant attention to Christian contributions beginning in Europe and the Levant and proceeding through the dark ages of Europe. Monastic medicine was developing during the middle ages and was provided as part of a religious duty. The central question of this Congress is how today's Church lost a special healing ministry and how can we reclaim back our culture, works and rights. This Congress will offer practical guidance on primary care using natural medicines and herbs; and about how Christian churches can understand and implement Jesus' healing ministry in the contemporary world. There is a secondary theme of rheumatism in light of monastic medicine and today's methods of treatment.
Wednesday June 5: Public health screening As part of Knightly duties, citizens of St. Kitts/Nevis can receive a free healthology check up – Blood Pressure, Blood Glucose, and Blood Cholesterol. This screening is finger-stick with on the spot results. Each patricipant will receive a 'Jacob's Ladder' Health Passport in which their results will be recorded. Screening is from 8 AM to 1 PM, open to the public – Newcatle Integrated Medical Center.
Thursday June 5: Thesis dissertations for candidates for Licentiate and Doctoral. PanAmerican University, Newcastle – 8 AM – 1 PM.
• meeting of sovereign councils 2 – 4 PM (By Invitation Only).
5 PM: cocktail reception for all guests, pre-congress registration.
FRIDAY JUNE 6: CONGRESS ON TRADITIONAL, INDIGENOUS & MONASTIC MEDICINES
NEPAC AUDITORIUM, CHARLESTOWN, NEVIS
8:30 AM Opening Ceremony
9-9:30 AM: The Great Chain of Being. Dr. Charles McWilliams.
For Medieval and Renaissance thinkers, humans occupied a unique position on the Chain of Being, straddling the world of spiritual beings and the world of physical creation. Humans were thought to possess divine powers such as reason, love, and imagination. Renaissance doctors viewed a human being as a microcosm (literally, a "little world") that reflected the structure of the world as a whole, the macrocosm; just as the world was composed of four "elements" (earth, water, air, fire), so too was the human body composed of four substances called "humours," with characteristics corresponding to the four elements which permeated teachings in monastic medicine.
9:30 – 9:55 AM: Overview of Monastic Medicine and Hospitaller contributions. http://www.smoch.org/
10:00 – 10:25 AM: Ethiopian Traditional Medicines. Dr. Geneva Edwards. RN, NMD, DLJ
10:30 – 10:55 AM: speaker pending…
11-11:50 AM: Exposition on the Order of St. Lazarus. The Order was Hospitaller in that its origins allegedly stem from a leper hospice founded in Jerusalem in the 4th or 5th century. The Order was chivalric in that it became a monastic Order of Knighthood in the early 12th century. With the loss of the Holy Land in the Crusades, the Order of Saint Lazarus continued operating in Europe. Through the dedication of its knights and members, its nobility of purpose in caring for the sick, and its splendid history, the Order's traditions have survived intact throughout the centuries, and should continue so for centuries to come, as long as Christianity, and a need to help our fellow man, exists. H.E. Massimo Ellul. https://saintlazarus.com/
12 – 1PM: Lunch Break
1 – 1:25 PM: Monastic Medicine and the Herbal Gardens. Teas infused in apple cider vinegar. Dr. Kathleen Jackson.
1:30 – 1:50 PM: Spiritual Disconnect and its role in reversing today's Autism. Hon. Len Anthony Smith
2 – 2:25 PM: Ethics and today's practice of Monastic Medicine. Dr. Krishna Panday.
2:30 – 2:45 PM: Medicinal Herbs of St. Kitts. Dr. Milton Whittaker.
2:45 – 3 PM: pending
3 – 3:45 PM: Chelation Therapy for Rheumatic Complaints. Toxic metals and their antidotes. The safe use of chelation therapy for vascular disease and other known toxic metals. The world we live in is toxic – one cannot exist anywhere on this planet without accumulating toxic overload. This overwhelms the bodies ability to clean itself and so higher levels than the body can tolerate without causing great harm are the end result. Ted Rozema, MD, FAAFP, FACAM
3:45 PM Break
4:10 – 5:00 PM: Battle for God in Science. Dr. Eliezer Ben-Joseph.
SATURDAY JUNE 7: RHEUMATISM IN ANCIENT CULTURES, IN RELATION TO MODERN THERAPEUTICS
9-9:25 AM: Rheumatism, Old and Not New. Prof. Charles McWilliams
9:30 – 9:55 AM: pending
10-10:50 AM: Dr. Anthony James, Symptomatic Extra articular Features of the Connective Tissue Diseases and the Spondyloarthropathies/ Edema/ Ischemia and inflammation.
11:00 – 11:15 AM: Spiritual Disconnection in Reversing Autism in Children. Len Anthony Smith.
11:15 – 11:30 AM: pending
11: 30 – 11:45 AM: pending
11:45 – 12 PM: pending
12 PM: LUNCH BREAK
3 PM: Solemn Investiture of the Knights of Lazarus and Knights of Hope
Consecration of the Grand Priory of St. Kitts/Nevis, Grand Priory of Ecuador
St. Thomas Anglican Church – St. James Parish, Nevis
5:30 PM: Cocktail Reception
Knights and Deacons in full attendance will receive a Diploma in Monastic & Hospitaller Medicine issued from the PanAmerican Univeristy and Certificate of attendance from SMOKH.
June 8 – Sunday: POST CONGRESS WORKSHOPS
8 AM – 3 PM:: to be announced
4 PM to dusk: Beach Party
June 9, Monday: Returning Home….
Accomodations
A team has already been designated to negotiate with nearby hotels for accomodations, group discounts, and busing. More details by Jan. 1, 2014.
Congress Fee: to be announced soon…
Registration online Form: https://panamint.wufoo.com/forms/smokh-congress-nevis-june-2014/
• THE SACRED MEDICAL ORDER is an independent and autonomous Religious Order of HOPE. Membership is by invitation. Professionals and persons of special interest are invited to attend.
• SMOKH [Knights of Hope] is part of the United Grand Priories of the Hospitaller Order of Saint Lazarus of Jerusalem. • Affiliated with ORDEM DE SÃO TIAGO APÓSTOLO
Category: News