The California Commandery of the Grand Priory of the United States gave yet another donation to those in need, this time to the well-established Guide Dogs of the Desert, who this year celebrated their 40th anniversary since their founding in 1972.
On Sunday April 29, 2012, a delegation of the Grand Priory led by the Commander of California, Confrere Peter Eckert and also including Officer Christopher Chambers attended the graduation of Guide Dogs of the Desert. They presented a cheque amounting to $500.00 and a certificate to The Guide Dogs of the Desert.
The donation will provide a blind person, Cecille, and her new guide dog, Leaszy, with 2 leashes, a guide harness and a collar. The event was indeed very well attended and stupendous press coverage was registered after the event.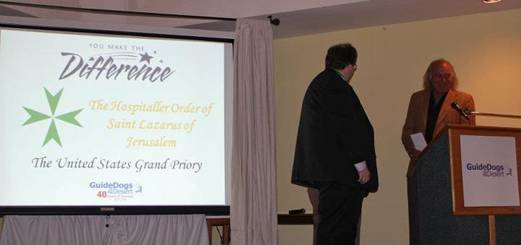 Category: Charitable Activities